Since being left paralysed by a trampolining accident in 2002, Will Fenton has been slowly regaining feeling and movement in his hands and legs helped massively by revolutionary stem cell therapy. He is now raising money for Physio (in UK) and Aqua Tilis therapy.
This is only available in Holland and is very expensive.
Will has tirelessly fundraised and worked towards his goal of walking again.
Watch this video
He still has a long way to go and needs you!
Donate now - click the button at the top of the page!
Will Fenton August 2008
Will Fenton - My Accident
It's been quite a few years now since I had a bad trampoline accident in 2002 and I landed on my head doing a double back somersault and dislocated my neck. I was paralysed from the neck down at first and couldn't feel or move anything. After the first few weeks I could slightly move my arms. Since then I have regained feeling in my whole body and I've got a lot more strength in my upper body and can slightly move my legs and my hands.
A few years ago I did some fund raising to pay for some stem cells which I had in October 2006, since this time I have come on leaps and bounds and am a lot stronger in my legs and am almost able to move my legs in a walking action suspended in a harness on a treadmill, I did some more fund raising in late 2007 and had some more stem cells in 2008. Since then I have been able to take a lot more steps on my own and even bring my feet down flat and lift my legs on the treadmill. I can also now stand in the parallel bars and walk a few steps with some help.
I have also been doing some Aqua Tilis therapy during the times that I had the stem cells and I have also been going about 3 times a year. I find this treatment helps. You sit in a steam chamber and get blasted with electromagnetic, infra red and ultra violet rays. This makes the stem cells grow and removes the toxins and excess calcium from the body. This therapy is not available in the UK and can only be done in Holland. I have been back to Holland for this a few times since I had my stem cells and each time I have noticed great improvements including standing for longer in the parallel bars and less shake in my legs and I have been able to come off some of my anti spasm tablets and walk even better and now can do exercises that were not possible before I had any of my treatment. Unfortunately this costs about £1500 a time.
If you can help me to walk again I would be really grateful. So far since I started raising money for treatment I have raised over £23,000. Thank you to everyone who has helped so far. You have already changed my life for the better. One day I will walk again.
Treatment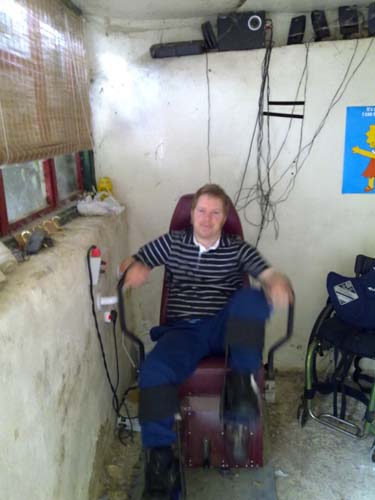 Over the years since my accident I have had quite a few different treatments. I believe that a combination of treatments have got me to the stage that I am now. It all started at the body workshop in Gloucester in 2004 where, from having no movement at all, I went to having some slight movement in my legs, and learning exercises which were invented by a Russian acrobat. The exercises involved using ropes, pulleys and counter weights to work the muscle without gravity getting in the way. In this technique the raw muscle is exercised and actual movement can be accessed. All of these techniques I still use in my program today. I am very lucky that when the body workshop closed down I was able to keep the services of the physiotherapist who was working there, and fortunately he lives locally so he can visit my house 3 times a week and do my sessions.
In October 2006 I was fortunate to be able to have some stem cell treatment in Belgium which came from an umbilical cord from a full term birth. These stem cells are cleaned and the blood cells are taken out and they are programmed to become nerve cells and put in intravenously into my arm and also injected into my shoulder muscle close to my break (c5/c6.) They went around my body and even within few hours I had already noticed a difference I had fewer spasms and my whole body felt it was full of energy. After we returned home my physio sessions were getting better and better. I started to come off some of my baclofen (anti spasm drug) and noticed dramatic improvements. This treatment cost £9,500 plus the costs of travel and hotels. Unfortunately this treatment is no longer available as the company has no longer got a licence to do this treatment so I'm so glad I had it when I did.
During the time of the stem cells I was introduced to another treatment called Aqua Tilis therapy which is where you go in to a steam chamber, it is heated to 55-60 degrees centigrade which really makes you sweat. This action of sweating plus the electromagnetic field and the UV and infa red light makes the cells in your body break down and regenerate. The whole session takes about 40-50 minutes and you come out feeling tired but refreshed. I go and have this treatment 3 times a year and each time it costs between £1500 - £1700 depending on the rate of the euro and hotel costs.
In 2007 I tried some more stem cells from Germany. This time they were adult stem cells from my own bone marrow. This treatment involved having a minor operation to remove about 300ml of bone marrow from my hip and send it off to have the stem cells cleaned and counted, and then it was injected back in to my spinal column at level L3. This was very tiring and I slept very well that night. After we had done the stem cell treatment I drove back to Holland for 4 more days to do aqua tilis treatment. This was to give the stem cells a boost.
Another treatment that I do every week is hyperbaric oxygen treatment which is where you go into an air tight chamber and it is pressurised to 24 feet below sea level and you breathe high levels of oxygen though a mask. This gets the oxygen into the blood stream and promotes cell recovery. I do notice that if I have a cut on my finger, after the session it will heal a lot quicker than without this treatment.
With a combination of all these therapies I will one day be back on my feet.
Will Fenton's Continuing Road to Recovery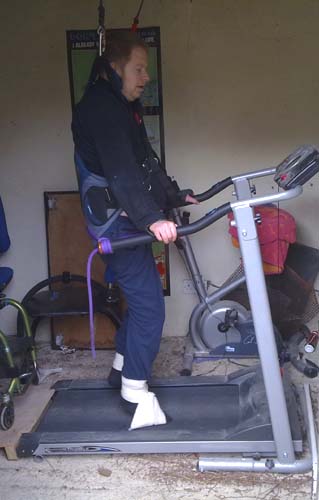 After Will Fenton's terrible accident, he spent a long time in a Cardiff therapy unit before returning to Cirencester to continue his treatment. When the opportunity came to go to Belgium and receive the ground breaking treatment on offer, Will took it upon himself to raise the thousands of pounds required to have this procedure.
Will Fenton comes from South Cerney, a small village in the heart of the Cotswolds near Cirencester and had always been a popular character in the village, putting on events including firework displays for friends and family he was always at the heart of an occasion. It's this passion for life that drives Will on and keeps him focused on walking again.
Because of his efforts and the help and generosity of those around him he has managed to go to Holland for Aqua Tilis therapy several times and also to pay for his personal physiotherapy which has lead to a marked improvement in his recovery. You can see from the video's how hard Will has to work to do everything that most take for granted.
With your help and support Will can continue to receive the treatment and physiotherapy. Any donation will be greatly received and you will know you have helped in this excellent cause.
Will Fenton September 2009
Fundraising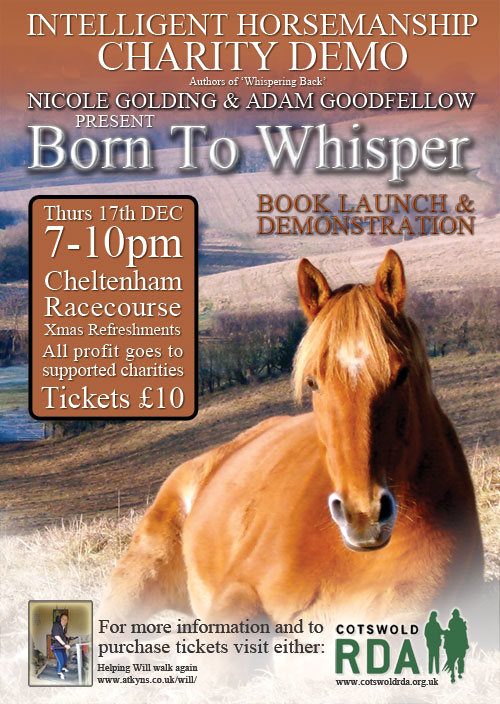 "At the heart of their journey, as in mine, lies a burning desire to do what's right for the horse" Monty Roberts
Nicole Golding and Adam Goodfellow were among the first people in the world to be awarded the Monty Roberts Preliminary Certificate of Horsemanship. They have been recommended by Kelly Marks and teaching on Intelligent Horsemanship courses for over ten years. Since 1998 they have run a yard near Cirencester, at which they help horses and humans to connect and understand each other, both on board and from the ground. They have had many extraordinary successes, including horses who were thought to be beyond hope. In 2003 their first book, Whispering Back was published and their second book, Born to Whisper, is coming out in December and both will be available at the demo at a special Xmas discount!
The event raised £600. Many thanks to all who attended and to Adam and Nicole for their generous support!
Links
Aqua Tilis Therapy Website

Stem Cell Website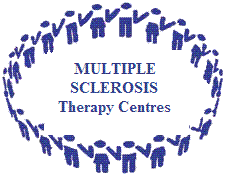 Christian Leicester (Physiotherapy)
personaltraining4u@hotmail.co.uk
Contact Will Fenton
Phone: 07971 653539
Email: will@southcerney.com